Building Your Support Network: Why You Don't Have to Go It Alone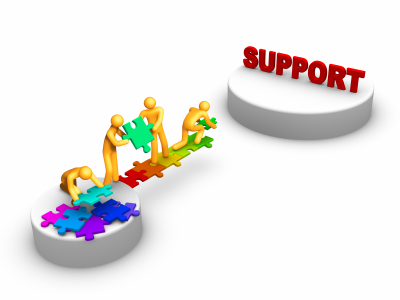 As a professional, you are often responsible for making tough decisions, dealing with conflicts, and navigating challenging situations. It's important to have people you can turn to for advice, guidance, and support. Building a support network is just as essential for success in your career as it is in your personal life.
As Ziad K. Abdelnour said, you need to "be strong enough to stand alone, be yourself enough to stand apart, but be wise enough to stand together when the time comes."
Having a support system in place, whether it's family, friends, colleagues, or mentors, can make all the difference in achieving your goals.
So why do so many people try to go it alone? Perhaps it's because they think they can handle everything on their own, or they don't want to burden others with their problems. However, as stated by Lily Collins: "Asking for help is never a sign of weakness". Asking for help is a sign of strength. The key is to name, claim and aim the strengths you possess and leverage the talents of others in areas in which you don't have a natural interest or capacity. This can be achieved by building a support network of people who can offer you guidance, encouragement, and support when you need it most.
Strategies for Building Your Support Network
Building a support network starts with you having a clear understanding of your strengths and the areas where you need support. Next is to identify the people in your life who can offer you the kind of support and guidance you need, and reaching out to them to let them know that you value their input and would appreciate their help. Depending on your peculiar needs, the path to building your support network is as follows.
Seeking out mentors: Look for people who have experience in your field and are willing to offer guidance and advice. This can be someone within your organization or outside of it.

Attending networking events:

Join professional organizations, attend conferences, and participate in industry events. This is a great way to meet new people and expand your network.
Connecting with colleagues: Build relationships with your colleagues and try to get to know them outside of work. This can help you establish a support system within your own organization.
Utilizing technology: Stay connected with your network through social media, email, and messaging apps. This can help you stay in touch and maintain those relationships.

How to Seek Feedback and Advice from Your Support Network
When you're facing a tough decision or challenge, it can be helpful to seek advice and feedback from your support network. Here are some tips for doing so:
Be clear about what you need: When reaching out to someone for help, be clear about what you need from them. Do you need advice, validation, or just someone to listen?
Be open to feedback: When receiving feedback, be open to hearing different perspectives and ideas.
Follow up: After receiving feedback, follow up with your support network and let them know how things turned out. This will help strengthen those relationships.

Benefits of Building a Support Network
Different perspectives: Your support network can offer different perspectives and ideas that you may not have considered on your own. This can help you approach problems and challenges in new and creative ways.
Accountability: When you have people in your corner who are invested in your success, you're more likely to stay on track and achieve your goals. They can hold you accountable, offer feedback, and help you stay motivated.
Emotional support: Life can be tough, and having people who can offer emotional support during difficult times can make all the difference. Whether it's a shoulder to cry on or someone to vent to, your support network can help you get through life's ups and downs.
Networking: Your support network can help you connect with other professionals in your field, which can lead to new opportunities and collaborations.
In conclusion, building a support network is a two-way street. You should be willing to offer support and help to others in your network as well. By building strong relationships based on mutual support and respect, you'll be able to achieve your goals and help others achieve theirs. Whether you're working towards a personal or professional goal, having people in your corner can make all the difference. So don't be afraid to reach out and ask for help. As Helen Keller said, "together we can do so much."
Join the conversation! Share your thoughts and experiences in the comments section below.
Are You Looking to Expand Your Knowledge and Stay Up to Date with The Latest Trends?

Nigerian Seminars and Trainings offers a wide variety of seminars and trainings to assist individuals and businesses in staying ahead of the curve. With over 5,000 events annually, we have something for everyone!
Our seminars cover topics ranging from business and technology to personal development and more. We also offer both virtual and in-person events so that you can maximize your learning opportunities in any environment.

Follow this link to check out our upcoming events today and start expanding your knowledge.