Learning and Development - An Essential Tool for Organizational and Personal Renewal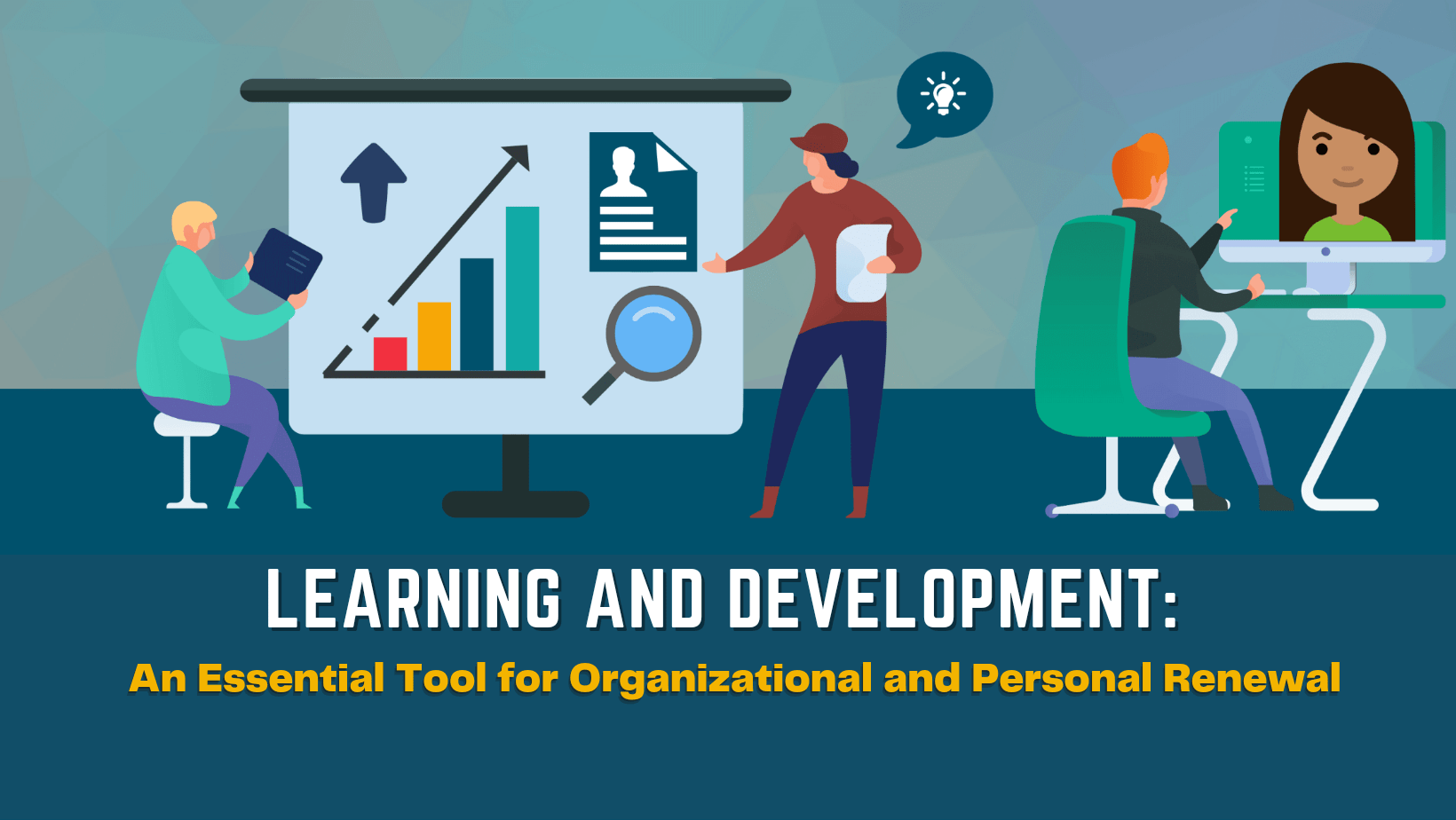 As organizations and individuals face unprecedented challenges due to the constantly evolving business landscape, with new technologies and global challenges shaping the way organizations operate, the need for continuous learning and development, to match the skills and competences of the workforce to the emerging challenges cannot be over-emphasized.
In this post, we will explore the contribution of learning and development (L&D) in empowering organizations, and individuals to thrive in the face of change.
What is Learning and Development?
According to Mrs. Bosede Esan, learning results from three main activities, namely, Education, Training and Development. They can be either formal or informal. Formal can be regarded as organized programs in each of the cases, while the informal refers to the learning experiences acquired during work or other activities.
The most important thing is that learning is the outcome of the three activities mentioned earlier. The fact is that it is only when learning has taken place in an individual that improvement in performance can happen makes it imperative for organization to imbibe a good learning culture. Learning brings about transformation of an individual and organisation. Without acquisition of new skills, knowledge, and the right attitude nothing will change.
Learning and development (L&D) therefore refers to the process of acquiring knowledge, skills, and competencies through various forms of training, education, and development programs. It encompasses a broad range of activities, such as on-the-job training, workshops, coaching, mentoring, e-learning, and more. The goal of L&D is to improve individual and organizational performance by enhancing employees' capabilities and facilitating their professional growth.
Why is Learning and Development Important?
Again, according to Mrs. Esan, organizations must make conscious effort to ensure learning in their employees not only to keep up with the pace of development in their fields but to meet up with the constant technological changes. The post COVID era woke employers to the fact that employees can work from different locations. This gave rise to virtual offices, virtual meetings, etc. This has great implications for job design in organisations. People working in teams yet living in different physical locations at times different continent. This has implications for new work ethics and so on. Executives must start learning how to effectively supervise their subordinates under the new work environment. This only suggests that there is no end to learning. The need to constantly update cannot be over emphasized.
Thus, in her view, organisations must entrench learning and development in their concept if they must continue to excel in whatever they do.
The Importance of Continuous Learning for Organizations:
In the digital age, organizations must be nimble and agile to stay ahead of the curve. Organizations that fail to adapt to changing market conditions risk losing their competitive edge. One of the most effective ways to achieve this is through continuous learning. This involves fostering a culture of curiosity and growth. By prioritizing L&D, organizations can:
Enhance Employee Skills and Competencies: Learning and development initiatives can help employees to acquire new knowledge, skills, and competencies that are essential for organizational success. By investing in training programs or providing opportunities for on-the-job learning, employees can develop new skills and knowledge that can be applied to their current roles or in new roles within the organization.
Increase Employee Engagement and Retention: Organizations that invest in their employees' development are more likely to have engaged and motivated employees. When employees feel that their employers are invested in their growth and development, they are more likely to be committed to their jobs and stay with the organization in the long term.
Foster Innovation and Creativity: Learning and development initiatives can help to foster a culture of innovation and creativity within the organization. By encouraging employees to think outside the box and to share their ideas and perspectives, organizations can tap into the collective intelligence of their workforce and generate new ideas and solutions.
Improve Organizational Performance: Learning and development initiatives can help to improve organizational performance by enhancing employees' skills and competencies. This, in turn, can lead to improved productivity, efficiency, and quality of work.
Build a Strong Talent Pipeline: Investing in learning and development can help organizations to build a strong talent pipeline by developing employees who have the potential to take on leadership roles in the future. By identifying and developing high-potential employees, organizations can ensure that they have the talent they need to succeed in the long term.
Personal Renewal through Skill-Building and Talent Development
On an individual level, L&D can be a powerful tool for personal renewal. Whether you're looking to advance your career or simply expand your knowledge, continuous education can lead to:
Increased Job Satisfaction: Employees who engage in learning and development activities report greater job satisfaction, as they feel more confident in their abilities and see opportunities for growth.
Enhanced Employability: In a competitive job market, individuals who invest in their personal growth by acquiring new skills and knowledge are more likely to stand out to potential employers.
Expanded Career Opportunities: Expanding your skill set can open doors to new career paths and opportunities, allowing you to explore your passions and interests

while remaining relevant in the workforce.
Learning and development is crucial for organizational and personal renewal. By embracing a culture of continuous learning, businesses can remain competitive and innovative, while individuals can enhance their employability and career prospects. Continuous learning builds competitive advantage by enabling adaptation, fostering innovation, boosting performance, and expanding opportunities. Overall, L&D serves as an essential tool for empowering organizational and personal renewal.
Do you have comments, contributions, or feedback on this post? Dive into the comment sections below. We will be glad to hear from you.
REFERENCE
Mrs. Bosede Esan is a former Director of Accreditation, Center for Management Development (CMD) Nigeria.
Are You Looking for a Way to Stay Competitive in the Ever-Changing Business Environment?
Nigerian Seminars and Trainings is here to help. We are a leader in providing seminars, workshops, and trainings to individuals and businesses around the World. Our seminars are designed to provide you with in-depth knowledge and practical solutions to help you overcome challenges in your professional life.
With our experienced facilitators and innovative learning environment, we empower you to reach your highest potential through interactive training sessions. Our seminars cover diverse topics such as leadership, innovation, strategy execution and customer service management.
Follow this link today to Register for one of our upcoming seminars or workshops that suit your needs and start building the skills required for success today!