Balancing Quality and Timeliness – A Monitoring and Evaluation Conundrum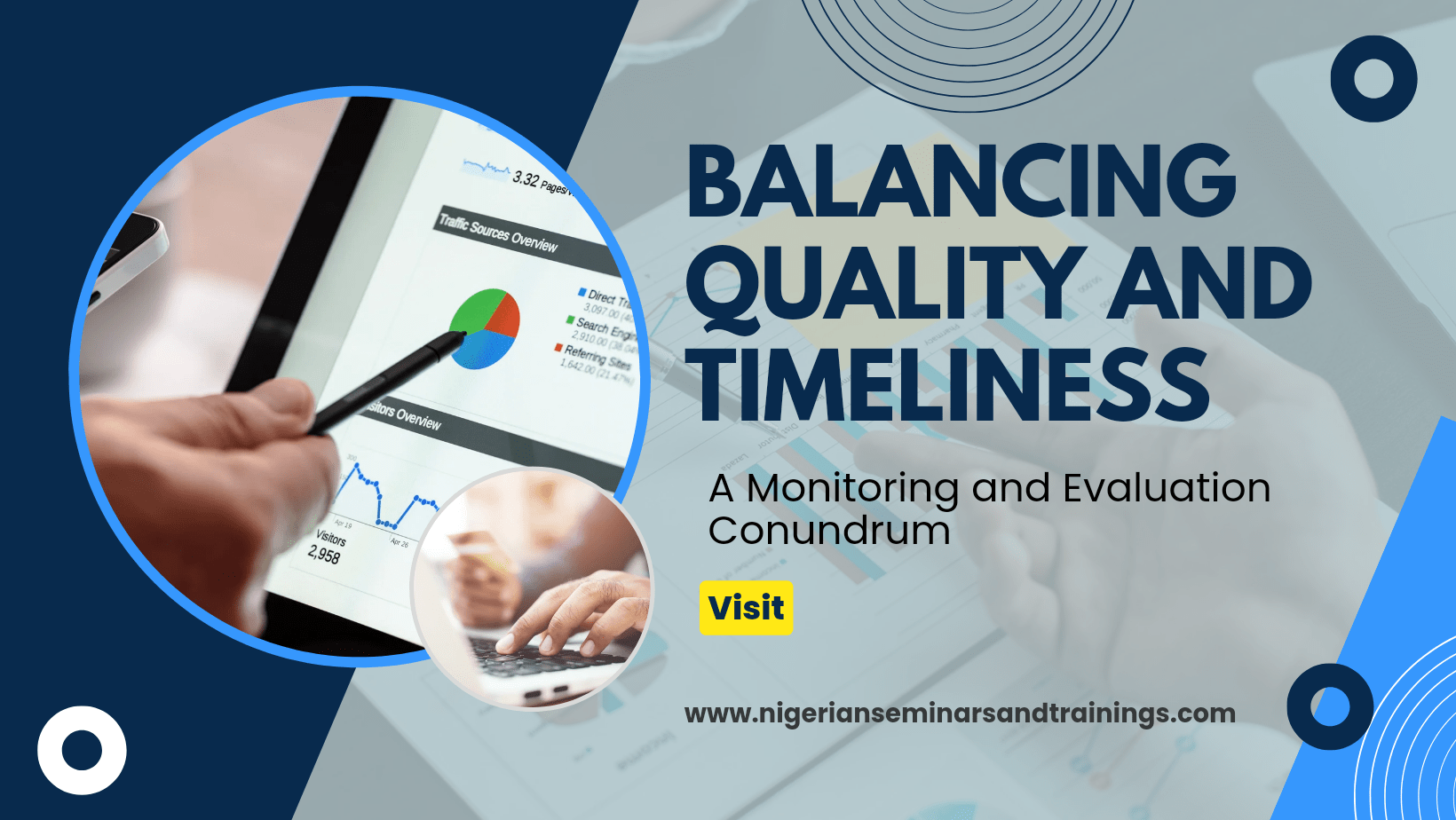 Balancing the need for quality with timeliness in monitoring and evaluation (M&E) can be a daunting task. It requires a strategic approach that considers the project timeline and the desired outcomes. Whether you're a project manager, an M&E professional, or just someone interested in improving your project management skills, this post will provide you with valuable insights to help you achieve your goals.
To conduct monitoring and evaluation (M&E) in a manner that ensures quality is not sacrificed on the altar of timeliness, M&E professionals will do well to observe the following steps:
Timely Monitoring
Project managers must plan regular monitoring activities throughout the duration of the project. This helps to identify potential issues early on and take corrective action before they impact project success. For instance, regular data collection and analysis can help identify trends and patterns that might require further attention. This will ensure that the project is on track, and any issues are addressed promptly.
Accuracy and Detail
While timeliness is important, it is equally important to ensure that M&E activities are conducted with a high level of accuracy and detail. For instance, the data collected should be relevant, reliable, and valid. Any errors or inconsistencies in the data can affect the validity of the findings and decisions based on the data. Thus, it is essential to establish quality control measures to ensure the accuracy of the data collected.
Clear Communication
Clear communication between all stakeholders involved is also essential to ensure quality and timeliness. Stakeholders, including project team members, donors, beneficiaries, and other interested parties, should be informed of the project's progress, results, and any corrective actions taken. They should also understand their roles in the M&E process and be willing to contribute to the process.
Soliciting Feedback
Getting timely feedback from all stakeholders is also essential in improving the quality and timeliness of M&E activities. Soliciting feedback from stakeholders can provide insights into the project's progress and identify areas that need improvement.
Balancing quality with timeliness in M&E is a challenge that requires a strategic approach. Project managers need to ensure that they are following the right approach and are using the right tools. By finding the right balance, organizations can optimize their M&E efforts to achieve the best possible results. As Rohinton Mistry puts it, "In the end, it's all a question of balance". So, start making efforts at achieving a balance between quality and timeliness in your projects by implementing these tips today and see the positive impact they can have on your projects!
Looking for expert guidance on how to balance quality and timeliness in monitoring and evaluation projects? Follow this link to find monitoring and evaluation courses from some of the best trainers in the industry.
Join the conversation. Share your thoughts in the comments section below!
Are You Looking to Expand Your Knowledge and Stay Up to Date with The Latest Trends?

Nigerian Seminars and Trainings offers a wide variety of seminars and trainings to assist individuals and businesses in staying ahead of the curve. With over 5,000 events annually, we have something for everyone!
Our seminars cover topics ranging from business and technology to personal development and more. We also offer both virtual and in-person events so that you can maximize your learning opportunities in any environment.

Follow this link to check out our upcoming events today and start expanding your knowledge.