The Role of Nigerian Seminars and Trainings (NST) in the Nigerian Training Industry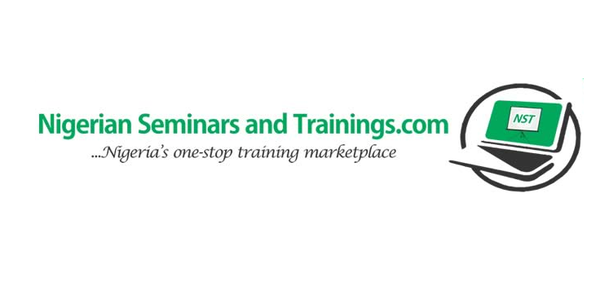 As we continue to contribute our quota to the advancement of the Nigerian Training Industry, we are not unaware that questions will be asked concerning our legal or regulatory status to play the roles we have been playing. Questions like is NST a regulator? Is NST a Training Institution? Is NST a government agency? The answer to the three questions above is NO. NST is neither a regulator, a training institution or a government agency.
What then is NST?
Nigerian Seminars and Trainings or NST, a privately-owned business concern, is the world's leading aggregator of training, seminars, workshops and other learning opportunities in Nigeria and around the World. It is important here to distinguish global conferences and events aggregation websites from core training aggregation websites. Nigerian Seminars and Training is a core training aggregation website, and in this role, we are the most highly rated and most popular. Please follow the alexa link to see the global and local (Nigerian) ranking of training aggregation websites by alexa.com, the world leader in website analytics.
Why do we do what we do?
The world is growing increasing digital and almost every activity is now being carried on online. To stay up to date, we need to continuously draw parallels between brick and mortar businesses and their online counterparts. In this comparison, Nigerian Seminars and Trainings is to the Nigerian Training Industry, what Shoprite is to manufacturers of physical products. Understood in this context, we are the marketing channel leader, and, our esteemed training providers, are the channel members. Training programmes are the products.
Therefore, as the channel leader in this marketing channel, we understand and accept that along with our market leadership position, comes some responsibilities. These responsibilities include:
Establishing operating norms and processes to ensure a free flow of goods (training courses) and services through the channel,

Preempting and proffering solutions to channel conflicts / difficulties,

Resolving channel conflicts where it cannot be prevented

Continuously innovate to ensure the growth of the market and the prosperity of channel members
So, we are neither regulators nor a professional body. What we do, we do in the discharge of these responsibilities in the interest of training providers who have entrusted us with the task of advertising their business and training programmes by uploading and promoting them on our website. That is why membership of, and activities on this forum is open only to businesses that are listed on our website.
Alliances and Affiliations
To strengthen our capacity to operate in the interest of the training public, we have, over the years, established very good working relationships with the training industry regulator, professional institutes / bodies and over one thousand training providers. We will continue to build these relationships to the betterment of our channel members. However, to maintain our neutrality, we have a strict policy of not partnering with any training firm either by running training together or advert for share of payments for training or any other arrangement that may compromise our neutrality.
Is there a way we can serve you better? Please feel free to post your comments below or contact us by sending a message here.
Thank you.
Nigerian Seminars and Trainings